~Handprints on our hearts~
Some of the smallest hands leave the biggest imprints....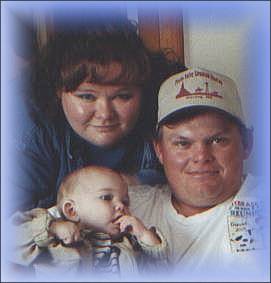 The Wiggins
David, Carrie and Cameron
We take this time to remember our precious son Cameron, and cherish the memories he has left us.
Our Family Story
Married in 1996, we were anxious to start a family. After enjoying 1 year of marriage we decided it was time to try for a baby. Six months later we were pregnant! Only to suffer a miscarriage at 5 weeks. We were sad and disappointed yet began to try again. Discouraged 10 months later, we began seeking infertility help. Through tests we found out I needed a Fallopian Tube Catherization. Within one month of the procedure, we were pregnant!! Overjoyed we awaited the arrival of our little one. Seven months pregnant I began showing signs of Toxemia, and was put on bedrest. Three weeks early at 9 am on July 4 I went into labor, 15 hours later on July 5, at 12:35 am and an emergency C-section, Cameron Mason was born!! A small little guy, but seemed healthy. He had jaundice in the first week, and after that was gone we assumed everything was going to be alright!!

Things seemed to be going as scheduled until at 5 months Cameron was not sitting up like he was supposed to. Thinking he would be a little behind, we didn't worry. Within a few weeks he began to occassionally twitch his little hand. A noticable sign, however once again we dismissed the sign of a problem. At 5 1/2 months while at his grandma's house, and I was gone, Cameron became sick, with vomitting and ultimately stopped breathing! Luckily for us his Aunt Joanna an LPN was there and treated him, until the ambulace arrived.
That was the beginning of Cameron's journey! He continued to have "apnea spells" or seizures as the doctors would call them, he also was diagnosed with a severe case of Acid Reflux, which required surgery to control (Fundoplication). The first signs of major problems was with the first MRI showing a spot on his brain. Orginally it was suggested that Cam had a run in with encephilitis. Because after his meds, and surgery seemed to be gaining and getting better. WIth ups and downs and several hospital stays, finally at 11 months Cameron became increasing sick with seizures(at one point they had completely went away for about 3 months) At this time with another MRI, our worst fears were positive, the spots or disease in Cameron's brain was progressing...With this new discovery Encephalitis was ruled out. Test after Test, we received normal results and no diagnosis to Camerons disease.
Finally 2-3 weeks before his first birthday, Cameron began to have respitory problems. Before he had began a chronic cough that noone could explain. What we know now, and not then, is the fact that the disease in his brain had progressed to the brain stem which controls the function of breathing. Therefore we were trying to fight it with cough medicine and oxygen.
On the 4 of July we rushed him to the ER, because of his breathing. It was then we realized the end was near. We had to choose to send him to a bigger hospital, or go home and let it take its course. We decided to take Cameron home. We called in all the family, and are thankful we had one more day to have everyone that loved Cameron around us. He waited at home with us one more day, to reach his first birthday!! His grandma brought him a cake and we sang to him. Then he ended his journey that afternoon, and we had to say good-bye. We had a huge birthday party planned for the 7th, but we never got to have it for him. Instead we sent balloons to heaven.


.
It was the hardest thing we ever had to do, and thank God for each day that we had him. One month later, we found out that the autopsy suggested that Cameron had Leighs Disease. We then decided to go into Genetic Counseling. We were told that it might take a long time to complete testing to maybe have an answer, or not as to how Cameron inherited this disease. Because we want to be parents and were interested in the chances of more children we decided to start the testing.
October 2001- We gave permission for the Genetist to begin testing Cameron's tissues, they will be sent to Georgetown University. Again we were told it might take a long time for results. They also sent my blood to the lab.
November 2001- After many discussions, weighing the risks, and positives we decided to try for another baby. And behold it happened on the first try!! We are excited, nervous, and anxious and are due August 10. We feel we were blessed by Cameron, and are prepared with whatever will come our way.


March 1,2002- The first round of Genetic test have came back negative....Meaning it did not pinpoint, the disease or how it was inherited. They have informed us that there are 2 more rounds of tests they can do. And we are moving forward, knowing that we may never know. Once again, we were informed that it will take a very long time. I will keep this page updated as new info comes to us.
July 25, 2002 We were blessed with Cameron's little brother! Dawson Camden was born via a scheduled C section, he weighed 6lbs 10oz and 201/4""long! He is a very active little boy and we hope and pray everyday he will be okay. Currently there is no test we can do on him, as we are still waiting results of more tests from Cameron. They still have not pinpointed the disease. We will have to watch, wait and see how Dawson develops. Hopefully he will grow big and strong! CHECK OUT DAWSON"S PAGE!

March 11, 2003 A Dawzie Doodle update!!:) Dawson is now 7months old!! Growing like a weed and an active, onery little boy! So far there is no evidence of Leighs Disease! He is sitting up, has 2 teeth and loves to walk around in his walker!! He is a happy, people person! It has been over a year now since our first round of genetic testing and we are still waiting for more results! We feel we have been double blessed, with ~Cameron~ in our hearts and Dawson in our arms!

June 16, 2003 Dawson is crawling!! He has been crawling for over a month now. He is pulling himself up on everything, and getting into everything! He is such a happy little boy! We are taking bets on if he will walk before his 1st birthday! He has 5 teeth! And likes to bite!

August 13, 2003 Well we made it! Dawson turned ONE on July 25, 03!!! A major milestone for us! He weighs 23 lbs, 31""long and has 7 teeth! He has not started walking! He "cruises" around everything and will walk with one hand with someone, but has not walked on his own. He is quite the talker(jabber jabber jabber) and always laughing!!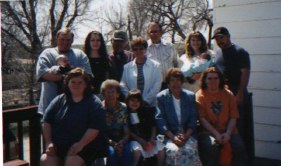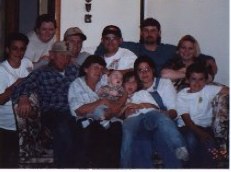 The Yeagers The Wiggins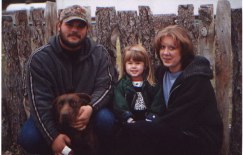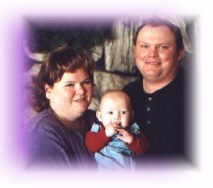 The Mitchells Carrie, David and Dawson/02

Thank you for reading our story. We only hope that our story may help another family someday. As we will always remember our little angel Cameron, and miss him everyday.


~Cam ~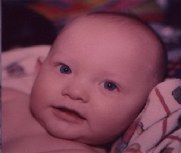 Dawzie


A child is one of the greatest gifts life could ever send.

You have been listening to "There You'll Be" By Faith Hill